Hardware, software and cloud for fast robot prototyping and development
Kraków, Poland, June 27th, 2017 – Robotic development platform creator Husarion has launched its next-generation dedicated robot controller CORE2. Available now at the Crowd Supply crowdfunding platform, CORE2 enables the rapid prototyping and development of consumer and service robots. It's especially suitable for engineers designing commercial appliances and robotics students or hobbyists. Whether the next robotic idea is a tiny rover that penetrates tunnels, a surveillance drone, or a room-sized 3D printer, the CORE2 can serve as the brains behind it.
Husarion's platform greatly simplifies robot development, making it as easy as creating a website. It provides engineers with embedded hardware, preconfigured software and easy online management. From the simple, proof-of-concept prototypes made with LEGO® Mindstorms to complex designs ready for mass manufacturing, the core technology stays the same throughout the process, shortening the time to market significantly. It's designed as an innovation for the consumer robotics industry similar to what Arduino or Raspberry PI were to the Maker Movement.
"We are on the verge of a consumer robotics revolution", says Dominik Nowak, CEO of Husarion. "Big industrial businesses have long been utilizing robots, but until very recently the consumer side hasn't seen that many of them. This is starting to change now with the democratization of tools, the Maker Movement and technology maturing. We believe Husarion is uniquely positioned for the upcoming boom, offering robot developers a holistic solution and lowering the barrier of entry to the market."
The hardware part of the platform is the Husarion CORE2 board, a computer that interfaces directly with motors, servos, encoders or sensors. It's powered by an ARM® CORTEX-M4 CPU, features 42x I/O ports and can support up to 4x DC motors and 6x servomechanisms. Wireless connectivity is provided by a built-in Wi-Fi module.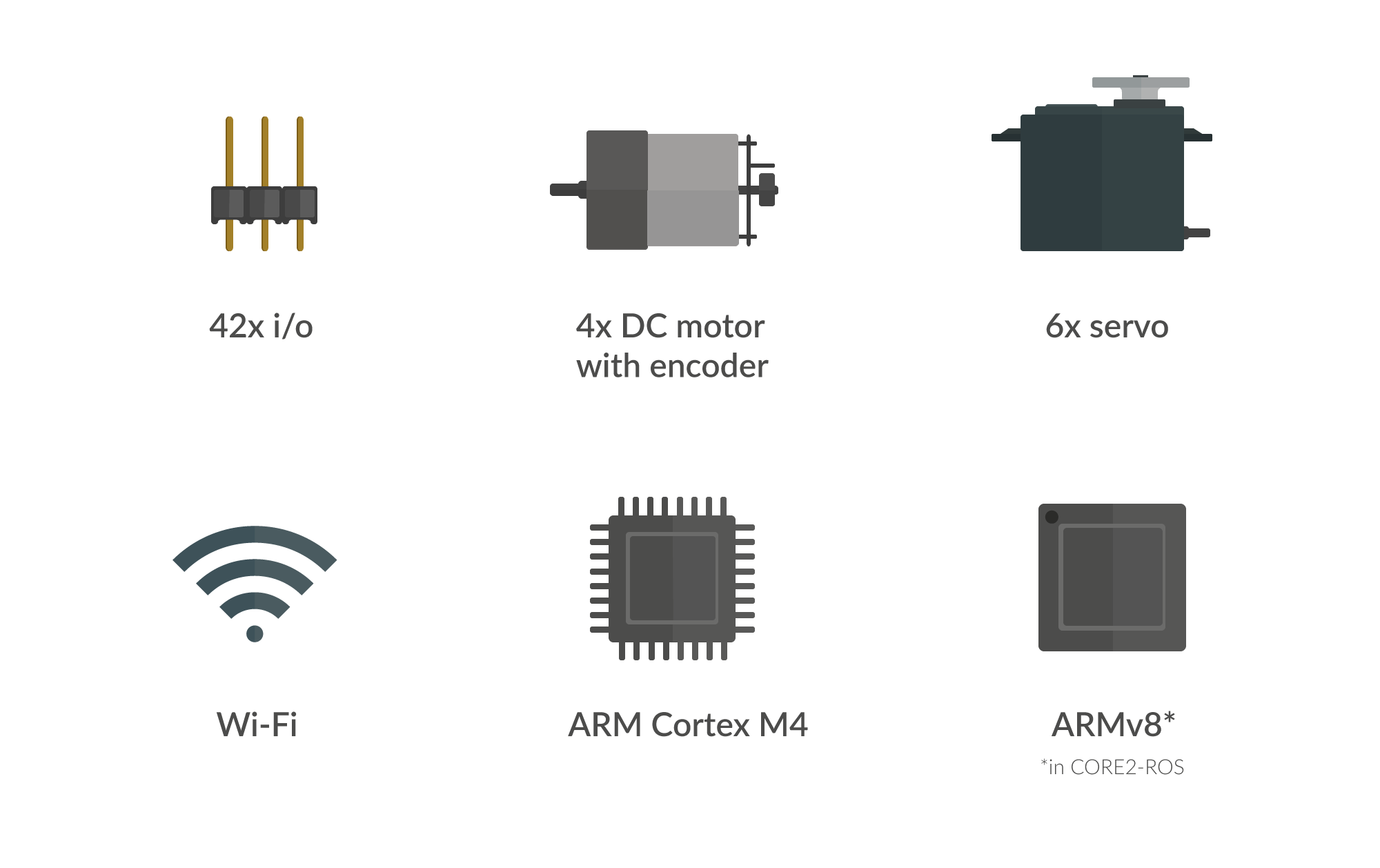 The Husarion CORE2-ROS is an alternative configuration with a Raspberry Pi 3 ARMv8-powered board layered on top, with a preinstalled Robot Operating System (ROS) custom Linux distribution. It allows users to tap into the rich sets of modules and building tools already available for ROS. Real-time capabilities and high computing power enable advanced use cases, such as fully autonomous devices.
Developing software for CORE2-powered robots is easy. Husarion provides Web IDE, allowing engineers to program their connected robots directly from within the browser. There's also an offline SDK and a convenient extension for Visual Studio Code. The open-source library hFramework based on Real Time Operating System masks the complexity of interface communication behind an elegant, easy-to-use API.
CORE2 also works with Arduino libraries, which can be used with no modifications at all through the compatibility layer of the hFramework API.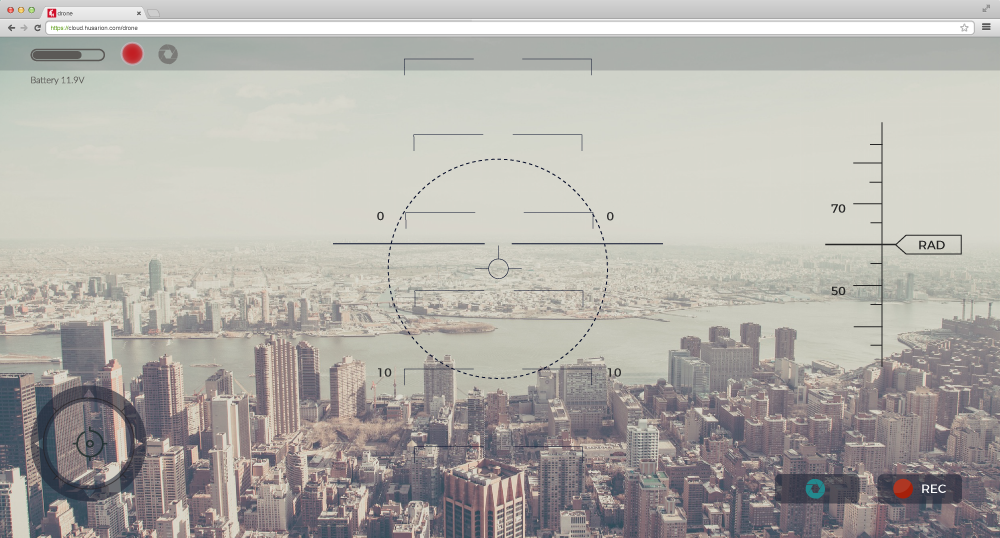 An example of a customized drone Web control UI
For online access, programming and control, Husarion provides its dedicated Cloud. By registering the CORE2-powerd robot at https://cloud.husarion.com, developers can update firmware online, build a custom Web control UI and share controls of their device with anyone.
Starting at $89, Husarion CORE2 and CORE2-ROS controllers are now on sale through Crowd Supply.
Husarion also offers complete development kits, extra servo controllers and additional modules for compatibility with LEGO® Mindstorms or Makeblock® mechanics. For more information, please visit: https://www.crowdsupply.com/husarion/core2.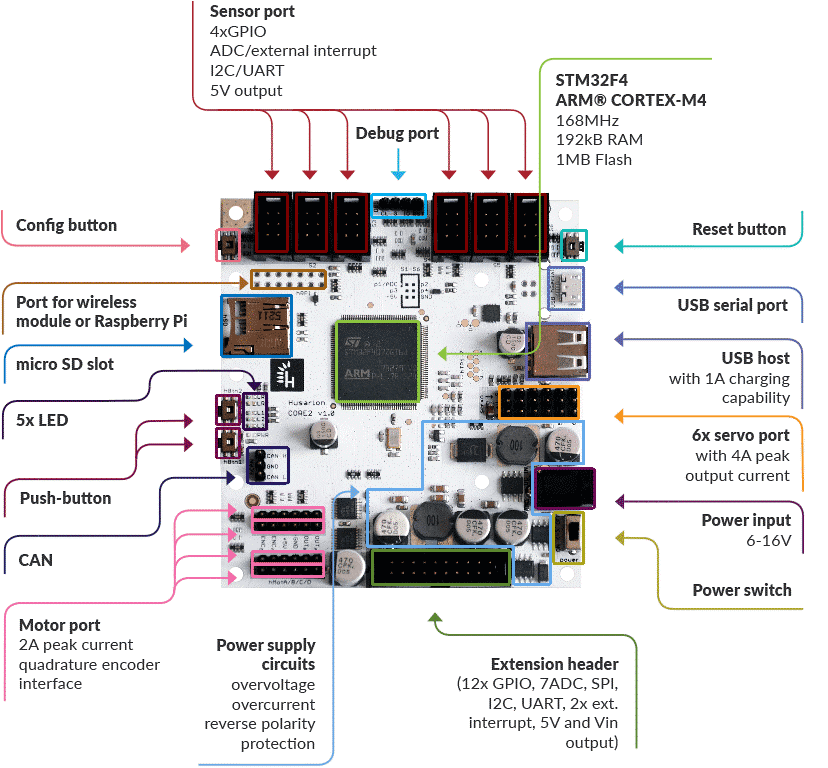 Specifications:
 Model
CORE2
CORE2-ROS
Real-time microcontroller
ARM Cortex-M4
@168 MHz
192 KB RAM
1 MB Flash
Single board computer
–
ARM-8@1.2 GHz
1 GB RAM
16 GB Flash
Wireless
Wi-Fi, Bluetooth

*ESP32

Wi-Fi, Bluetooth
Servo
6
(with selectable voltage level – 5 / 6 / 7.4 / 8.6 V)
DC motor output
4
Quadrature encoder input
4
GPIO
42
UART
4
SPI
1
I2C
3
CAN
1
External ADC input
13
External interrupt input
8
Additional materials